It's almost summer! And that means only one thing in music…festivals! We've taken a look at the cultural melting pot that is Birmingham and come up with our picks for the top 10 music festivals in Birmingham in the summer!
---
10. Birmingham and Solihull Jazz and Blues Festival
This is a festival that isn't short of accolades. Now in it's 33rd(!) year, Birmingham and Solihull Jazz and Blues Festival is the longest running festival in Birmingham, the longest Jazz festival in England (over a week long!) and the largest free Jazz and Blues festival in Europe. Quite a mouthful, isn't it?
The festival takes place across Birmingham and Solihull, bringing you music, film, workshops, talks and more. On top of all that, most of the events are free! Keep your eyes peeled for venue and performer announcements over the next few weeks – the festival takes place 14th-23rd July.
Find out more about Birmingham and Solihull Jazz and Blues Festival here.
---
9. Valefest
Another festival with a nice little list of accomplishments! For those that don't know, Valefest is the largest student-ran charity event, funded by the University of Birmingham's Guild of Students as a post-exam celebration of the year. Throughout it's 11 years, the event has risen over £150,000 for various charities.
Featuring a whole slew of new and rising acts from Birmingham's student music scene (we recommend catching Coffee Breath if you can), as well as several bigger names, such as last year's headliners The Dub Pistols. Featuring several stages, a comedy tent, workshops, society events and more, this is a great event for a great cause, with this year's proceedings going to BasicNeeds and RSVP.
You can buy tickets for Valefest through the Guild of Student's website.
---
8. Inner City Birmingham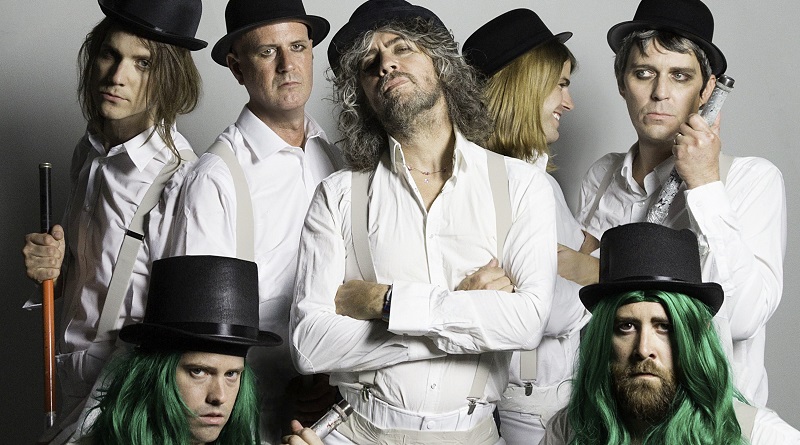 Running as part of a multi-city music festival, Innercity Birmingham brings us an evening designed to reflect the individuality of our city as well as the diverse mix of live music available out there.
Taking place in Birmingham's famous Rainbow Venues on 12th August, the evening has promised dazzling visuals as well as exceptional music. Headlining psyche-space rockers The Flaming Lips have garnered critical acclaim for their elaborate live shows, which have featured costumes, balloons, puppets, video projections, complex lighting, giant hands, heaps (and we mean heaps) of confetti and the notorious man-sized plastic bubble that frontman Wayne Coyne uses to travel over the audience! It isn't just a concert – it's an experience.
Support is provided by Public Service Broadcasting, who use sound recordings to compose music (where does that sound familiar?); alt-rockers Amber Run and B-Towners Hoopla Blue.
Get your Inner City Birmingham tickets through the official website.
---
7. Birmingham Weekender
For just the second time, Birmingham's largest arts festival returns, with an awe-inspiring events programme running across the city, from hundreds of world-class West Midlands and international artists and companies.
Returning on 22nd-24th September, the city will be taken over by Birmingham Weekender, featuring new art commissions, world premieres, pop-up and roaming street theatre, workshops and more! Take a look for a taste of what to expect!
Keep up to date on everything Birmingham Weekender here.
---
6. Beyond the Tracks
Whilst it hasn't technically happened yet (and so misses out on our top 5), Beyond the Tracks is historic in that it is Birmingham's first ever greenfield festival!
Taking place 15th-17th September in Eastside City Park, the event has already attracted significant praise for its smashing line-up (featuring a huge amount of Brummie talent) and location, which rests right in the heart of the city. It's fairly safe to say this is one of the most anticipated events in our calendars this year!
Visit the Beyond the Tracks website for more information and tickets!
---
5. Carnival Magnifico

The Rainbow Venues make their second appearance on this list, with the second Carnival Magnifico bringing a slice of Rio to Birmingham 2nd June. The best way to describe event is simply a colour explosion – everything from the advertising to last year's photos are drenched in colour, and the event organisers have already touted their impressive amount of confetti for the event – 1,200,000 pieces!
The event focuses on electronic music, featuring a good mix of local DJs and star attractions. Following a host of international shows, this will be the most ambitious Carnival Magnifico yet!
Like Carnival Magnifico on Facebook to find out more in the lead up to the event!
---
4. Simmer Down
The UK's largest free Reggae event returns in 2017 after taking a year out last year! Simmer Down is a family-friendly celebrating Birmingham's cultural diversity and the central role reggae and other genres have played in the city's international cultural development. It takes place 23rd July this year.
The festival inter-cultural programme features a good variety of homegrown artists and international talent, and is delivered across 3 stages in Handsworth Park. There's something for everyone here, with live music, dance, educational workshops, spoken word and participation activities. There's even a dedicated programme for the little ones in the Children's Meadow, as well as face-painting, rides and a belly-busting selection of food stalls offering a diverse range of treats from the city!
For Simmer Down updates, visit their Facebook page.
---
3. Moseley Folk Festival
Moseley Folk Festival returns 1st-3rd September for its 12th iteration, bringing with it a programme packed with everything folk! Featuring everything from traditional and contemporary to acoustic and experimental, and with a healthy mix of international and local artists, this is one of Birmingham's best.
Held in the stunning Moseley Park, the event is just 2 miles from the city centre, yet feels like a completely different area. Whilst the greenery is beautiful, the event has expanded beyond the tree line again this year, with a collection of local pubs in Moseley Village also featuring music, dance and more!
Visit moseleyfolk.co.uk for more information about the event!
---
2. Supersonic Festival
At number 2 is what is probably the most 'out there' event on our list. Supersonic Festival is back for 2017 after a year off, and promises to bring everything experimental with it. The event is a multi-disciplinary and premier experimental music and arts festival, with a sense of unpredictability and spectacle at its centre.
With a curatorial approach that guarantees something for everyone and everything for those who want to experience something new, the festival has been building a sterling reputation since 2003. Incorporating music, art installations, film, food and more into their impressively varied programme, the event organisers have created a truly enticing event that nurtures a sense of adventure for curious audiences.
Learn more about Supersonic Festival here, and watch this highlight reel from 2015!
---
1. Mostly Jazz, Funk and Soul Festival
This is the one. When you think Birmingham festivals, this usually tops everyone's list. With a sterling reputation amongst customers, Mostly Jazz, Funk and Soul Festival returns 7th-9th July with a star-studded line-up, a picturesque setting (the aforementioned Moseley Park) and award winning food and drink companies.
Headliners this year include the legendary Chaka Khan, Soul Il Soul and St Paul and The Broken Bones, supported by a packed programme throughout the weekend. It's easy to see why this year is the fastest selling year the organisers have seen! We can't recommend this enough!
Enjoy a little Soul Il Soul to whet your beak before the big event. Find out more by visiting the festival's Facebook page!
---